Three-Body Technology Kirchhoff-EQ 1.5.1
September 16, 2022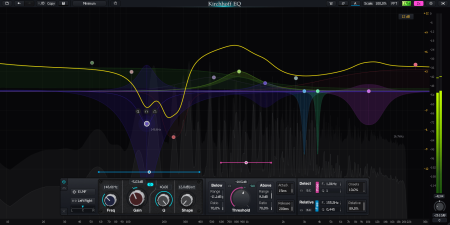 File size: 163 MB
Kirchhoff-EQ is an ultimate 32-band parametric EQ plugin built for all critical professional applications.
It has refined sound quality, analogue-matched curves, 15 filter types with continuously variable shape and 32 vintage EQ types modeled from real-world devices. The builtin dynamic processing functions are highly flexible and have ultra-low distorion. All these push Kirchhoff-EQ to a next-generation standard.
Ultimate Sound Quality
Robust Nyquist-matched Transform
Through originally developed "Robust Nyquist-matched Transform", Kirchhoff-EQ has made digital-domain frequency response more approximate to its analogue counterparts without high frequency cramping as in regular IIR (infinite impulse response) equalizers. This technique is applied on all filter types in Kirchhoff-EQ.
High-Precision Processing
64-bits is mandatory and it's not negotiable. The internal processing of Kirchhoff-EQ is always in 64-bits (or 117-bits), regardless of host DAW's current working precision.
Psychoacoustic Adaptive Filter Topologies
All linear filter structures should have the same sound on paper. However in real-world application, round-off errors make every filter structure sound differently: some better in low frequencies, some better in high frequencies.
A technology called "Psychoacoustic Adaptive Filter Topologies" has been deployed in Kirchhoff-EQ. Filter structures change themselves to a "best fitting" state along with corresponding band frequency changes, resulting in optimized sound quality in both low and high frequencies.
Filter Types
15 Unique Filter Types
low pass, high pass, band pass: continuously variable from 0 dB/oct to 96 dB/oct;
bell, notch: continuously variable from 12 dB/oct to 96 dB/oct;
low shelf, high shelf, tilt shelf: continuously variable from 6 dB/oct to 96 dB/oct;
flat tilt and flat top;
sword: has sharper slope than bell, specifically designed to "dig" out resonances.
brickwall low pass, brickwall high pass, allpass low and allpass high.
Flexible Dynamic EQ Functions
Dynamic functions in Kirchhoff-EQ are not just a bonus, they provide the richest functions you have ever seen. Enabling you to achieve unlimited possibilities of dynamic EQ functions. All filter types (except low/high pass, band pass and notch), even these vintage-modeled ones, can be applied with dynamic functions.
Whats New
Updates: official site does not provide any info about changes in this version.
HomePage:
https://anonymz.com/https://www.threebodytech.com/en/products/kirchhoffeq
DOWNLOAD
1dl.net

uploadgig.com

rapidgator.net