Office(R)Tool 2.23
June 12, 2022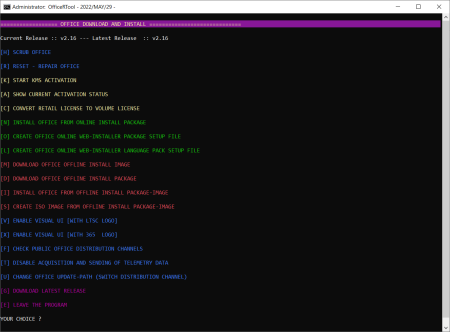 File Size: 20 MB
An advanced tool to install, activate, and config MS Office 2016, 2019, and 2021.
Features
Scrub Office
Reset — Repair Office
Start Kms Activation
Show Current Activation Status
Convert Retail License To Volume License
Install Office From Online Install Package
Create Office Online Web-installer Package Setup File
Create Office Online Web-installer Language Pack Setup File
Office Offline Install Image
Office Offline Install Package
Install Office From Offline Install Package-image
Create Iso Image From Offline Install Package-image
Check For New Version
Latest Release
Enable Visual Ui[with Ltsc Logo]
Enable Visual Ui[with 365 Logo]
Disable Acquisition And Sending Of Telemetry Data
Change Office Update-path (switch Distribution Channel)
Core function changes
User-friendly Interface
Up to date Activation files
Auto Create Package Info file
Auto Detect system Arch. & Lang
Multi-Language / Architecture Support
Menu changes
Install from ISO / Offline folder
Online / Offline Install Include Create ISO
Visual Refresh for Current & LTSC Channels
ing Offline Image / Offline Package
Convert & Activation for Office Products, Include 365 & Home
Misc.
Last activation Error Code output
Proxy / Debug / Self Update Options *NEW*
Using Language Name instead Language code
Replace 0/1 selection, with something much better
Remove Not genuine banner & Pop-up (the new one)
What's New
~ Complete List of changes
~ Enable all 365 option in >[O] CREATE … Menu
~ Update[C] Convert Menu to >[C] CONVERT TO VOLUME & ACTIVATE
No need to press Convert & Press Activate later
~ Auto Skip option. (via settings.ini file)
~ Complete List of changes
– Self Update Code Improve
– Add & Change 365 install options,
5.) Microsoft 365 Home Premium
6.) Microsoft 365 Business Premium
7.) Microsoft 365 Professional Plus
– On the single apps selection menu,
Remove the separator between Visio/Project selection
– Change INI names to 'Build_Info', 'Settings'
– Auto Select single Apps. (via settings.ini file)
– Auto Disable package Apps. (via settings.ini file)
– Settings.ini file validation & auto-create if needed
– Add a check to prevent it from starting from the Root drive
– Default package come with 3 files now. OfficeRTool, Debug Mode, readme
– Check if Build_Info.ini contains a path that does not exist/contains a path with "
The previous version could crash, this one more resistant.
– with help from mxman2k, implement a check from what environment –
the script is running. (x32, x64, x32 inside x64)
~ Add check for multiple instances of the script
if found exiting instance running in the background,
the new one will be closed – this is not a good idea.
~ Welcome screen will show one only
will show only if the MDL link is missing,
after pressing A, a Link will be created.
~ Add 3 More Products to[M] Option
Add 3 more retail IMAGE s from MS Site.
– Generate Microsoft Office 365 Home Premium -link >
– Generate Microsoft Office 365 Business -link >
– Generate Microsoft Office 365 Professional Plus -link >
~ Improved getPID script
the new version work much better.
~ Improved anti-leech protection
this I did a really good job.
~ Prevent GetPID script failure
if having a problem with WMI,
the GetPID script will fail too.
that will cause the Update Option to fail.
So .. Move it after the WMI_CHECK call.
~ update CleanOSPP tool to the latest version
thanks Dolmatov for the update
thanks ratzlefatz for the fixed files
~ Menu Upgrades & code improve
– BugFix for Update Option
– Major update to Convert License menu
– Disable RESIZE / MAXIMIZE window option
– Add welcome screen[ borrowed from MSMG script ]
HomePage:
https://anonymz.com/https://forums.mydigitallife.net/
DOWNLOAD
uploadgig.com

rapidgator.net

nitro.download